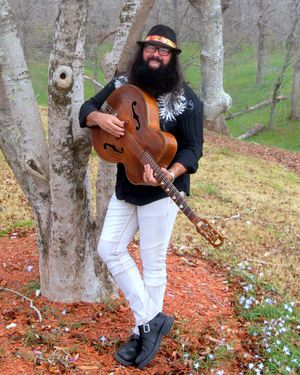 Curtis Jones is the most original guitarist since Django Reinhardt, and the most technical since Al DI Meola. In short Curtis is one of the best guitarist on the planet"
-John at Live 365.       
 
Curtis Jones reins as one of the most highly-respected flatpicking guitarist on the planet. Expanding on a legacy forged by musicians such as David Gilmour, Pat Metheny, Paco De Lucia, Doc Watson and Tony Rice,  Jones is often called by fans and critics alike, "The World's Fastest and  Cleanest" acoustic guitarist. This is an extraordinary technique that he both teaches and brings to his contemporary guitar performances and productions.  However, speed is only a small part of what Curtis can do.  Through his pure guitar mastery, he has the ability to weave in and out of Jazz, Rock, Bluegrass, Flamenco, and World Music styles in a way that is more original than anything that has been heard since Django Reinhardt, while taking the listener to a world of complete beauty, passion, grace and fire.
Kim Jones is an artist, singer, and song-writer. Her vocal influences growing up were Wynonna Judd, Patty Loveless, Janice Joplin, Bobbie Gentry, Bonnie Raitt, and Stevie Nicks. Her Musical influences include Jaco Pastorious, Richard Wright, Bill Evans, John Coltrane, Thelonious Monk, and Mccoy Tyner. She plays upright Bass and sings with the Mountain Gypsy duo as well as occasional keyboard.  Kim also plays upright Bass and sings in Curtis' full Bluegrass band, Primal Roots. She has been singing her whole life but has only in the last few years began to perform in front of live audiences. Kim plays and sings with strong emotion and delta blues style soul. When asked about her musical goals, her response is " I just wanna share it! It's in here deep down inside and I wanna let it out!".